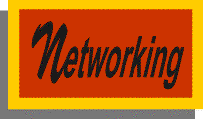 Networking Opportunities
____________________________________________
Advisory Council

Meets 4 times per year, including the Annual Meeting, usually in September, January, March, and late spring. See the Calendar.

Committee Meetings

CAMLS has eight committees that hold regularly scheduled meetings. These include : Children's Services, Community Outreach, Public Relations, Reference Services, Resources, Technical Services, Technology, and Young Adult Services. These committee meetings are open to any CAMLS staff.

Type of Library Meetings

Public, special, and academic/school library directors meet separately several times each year to discuss common concerns. See the Calendar.

Listserv

An electronic discussion forum for library related topics of interest to CAMLS members. Send e-mail to and put in message: subscribe camls-l your first name your last name.

Back to CAMLS Homepage
____________________________________________
Send e-mail to


http://camls.org/co.htm

produced 7/14/96

copyright © 1996 Cleveland Area Metropolitan Library System